Avail the Personal Care Products Distributorship Business Opportunities in Pan India
Sanitary Pad Distributors, Wanted Ultra Thin Sanitary Napkins Distributorship, Anion Sanitary Napkin Wholesale Suppliers & Dealers In India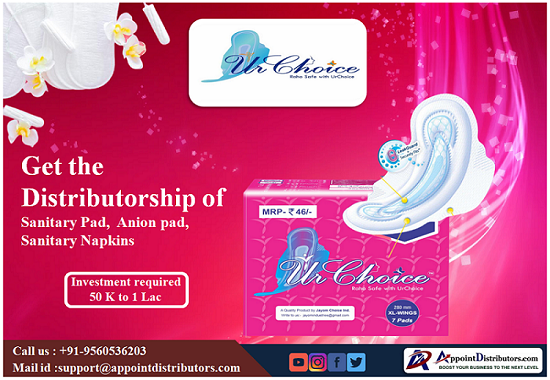 Established in the year 2018, We Jayom Choice Industries are the leading manufacturers and suppliers of Sanitary pads & Sanitary napkins that are marketed under the Brand name "Ur Choice". We offers XXL-320mm-10 pad packet, Anion-XL-290mm-8 pad packet, XL-280mm- 20 pad packet, L-240mm-8 pad packet, XL-280mm-7 pad packet, XL-280mm- 20 pad packet, Ultra-XL-290mm-7 pad packet, Anion- XL-290mm-7 pad packet, Anion XXL-320mm-8 pad packet, XL-290mm-10 pad packet, and other similar products. These products are manufactured using premium quality raw materials with the high-tech machine in our well-equipped manufacturing units under the observance of our highly experienced professionals
Our products are specially made to proffer good absorption, well hygiene & real comfort to the users. Owing to our premium quality products, a customer-centric approach, and creative trade tactics that help us to make goodwill in the market.
We want to boost our Sanitary napkins distributors network for this purpose we are searching for some dedicated individuals who are interested in becoming our state & city-wise-specific distributors in pan India.
Distributorship Condition:
Investment Required from becoming Distributors: 50k - 1Lac
Space Required to be a Distributor (sq. Ft.): 200 Ft
Ability to handle distributorship business
Read Also: Avail the Plastic Furniture Distributorship Business Opportunities in Pan India
Our Product Range:
Sanitary Pad:
240mm Straight Cotton Disposal Sanitary Pad.
240mm Cotton Straight Sanitary Pad.
XL-straight Fluffy Sanitary Pad.
240mm Disposal Sanitary Pad
Anion Sanitary pad:
Anion Chip Trifold Napkin
Anion Sanitary Napkin 290mm
320 Anion Sanitary Pad
320mm -XXL- Anion Sanitary Pad
Packets:
L-240mm-8 pad packet
XL-280mm-7 pad packet
XL-280mm- 20 pad packet
Ultra-XL-290mm-7 pad packet
Anion- XL-290mm-7 pad packet
Anion-XL-290mm-8 pad packet
Anion XXL-320mm-8 pad packet
XL-290mm-10 pad packet
XXL-320mm-10 pad packet
Trifold:
320 Mm Trifold Sanitary Napkin.
Fluffy Trifold Drymate-290 mm
Xl Ultrathin Sanitary Pad- Non-Woven
Anion Cotton Sanitary Napkins
Straight Pad:
240mm Straight Disposal Sanitary Pad
Ultra-Thin Pad:
Ultra-Thin Sanitary Napkins
Distributor Benefits:
Appreciable return on investment
Brand Building & Advertisement Support
High-Profit Margins
Plenty growth opportunities
Contact us for Distributorship:
Mail at: Support@appointdistributors.com
Call at: 9560536203
What's Your Reaction?